Byron's story is taking the internet by storm — a story that proves the incredible gifts
given to us by dogs during the short time they're here.
This story will touch your heart

?

?
amazingpandph
Byron Taylor was at his wit's end, and couldn't bear to go on. He had resolved to end his life, but was prevented from doing so by his
bullmastiff, Geo, who stole his noose and chewed it up.
When he returned upstairs, Byron found the noose clenched inside his dog's mouth. Geo, a six-year-old Rare Welsh Bull Mastiff, had
grabbed the noose when Byron left the room and refused to give it back. The more Byron tried to retrieve the rope, the louder Geo
would growl — something gentle Geo hardly ever did.
Byron's story is going viral, and for good reason. Even though Byron is making sure Geo lives out his last days to the fullest, Byron is g
rateful that his best friend gave him the greatest gift in return… the gift of life.
Meet these two best friends below, and please SHARE this powerful story with your friends on Facebook!
"He saved my life a few years ago. I was in a very bad place and I attempted suicide," Taylor explained to the Daily Mail.
"My ex-partner left me. It was very horrible. She turned all the electric and gas on full pelt and took the
keys to turn it off.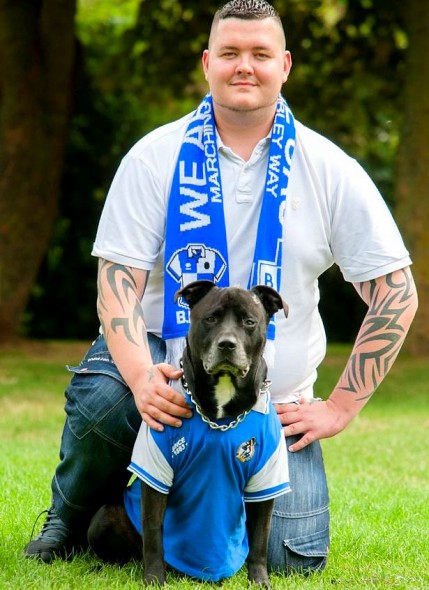 "She stole all the money and stuff. I lost everything. I couldn't afford the rent.
Taylor had been drinking heavily when he made the decision to kill himself. He fashioned a rope into a noose and then went downstairs to pen a farewell letter to his family.
"I came back upstairs and he had the noose in his mouth. At first, I thought he wanted to play," Taylor explained. "'I said 'give it here,' and he started growling at me."
"He chewed up the noose. He never growls, but each time I tried to take it off him, he would snarl. I wouldn't be here now if it wasn't for him.
"In a way, I think Geo knew what I was going to do. They have a sixth sense about this kind of thing. He knew something was up."