An abandoned newborn baby was saved from freezing to death by the unlikeliest of hero – a stray cat.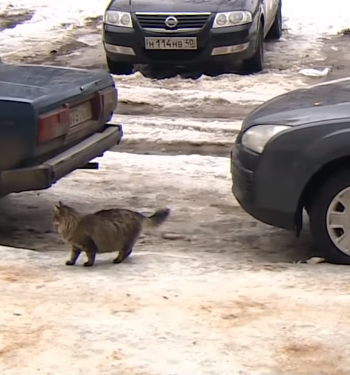 Animals have a unique instinct and ability to perceive when something is not right. We've seen countless examples of this – but here is one story in particular that especially proves just how amazing our beloved pets can be.
The tabby named Marsha climbed into the box the infant had been dumped in and kept the child warm for several hours as the mercury plunged below zero.
'The baby had only been outside for a few hours and thanks to Masha … he was not damaged by the experience,' a hospital spokesman told Central European News.
Nadezhda Makhovikova, who lives in the flats in Obninsk in the Kaluga region of Russia, told REN TV she ventured into the stairwell after hearing what sounded like a cat meowing in distress.
'When I went down, I saw it was the baby crying,' she said There lay an abandoned boy in a cardboard box on the floor. And just next to him was Masha.
"She (Masha) is very calm and friendly, so when I heard her mewling, I at first thought she might have hurt herself. But clearly, it was just her maternal instincts taking over and she wanted to protect the child," said Irna Lavora.