Doug Delony, a digital producer was taking his daily jogging at the park when he saw something interesting. He rapidly took a picture and posted it on Facebook. At first glance, you think the man is saying hello to an old dog while taking his baby for a walk. However, just look again…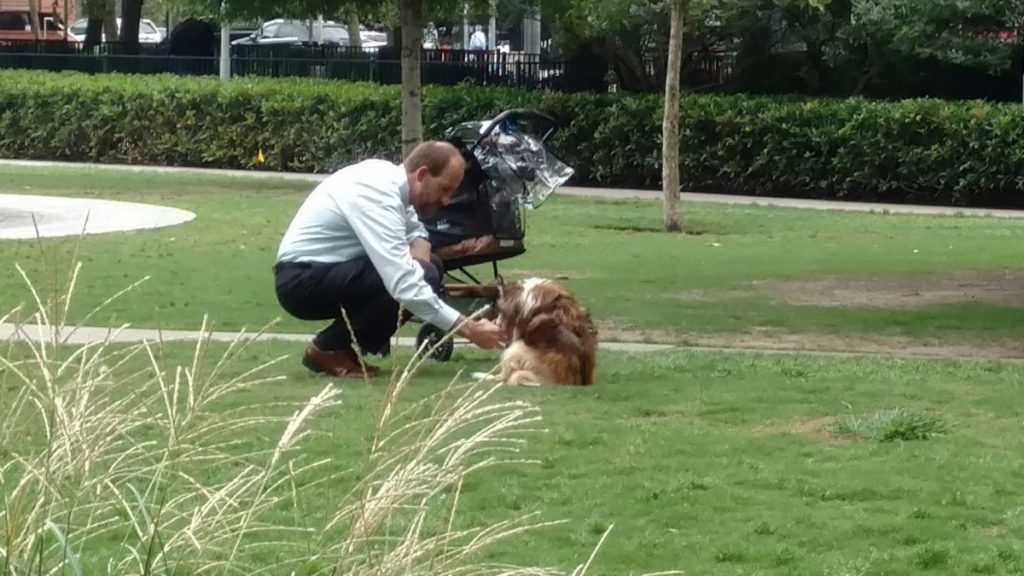 Usually, when you see a carriage in the park you definitely think it's a baby inside right? So what is your reaction if you saw a baby buggy with no baby and a man crouching over it?
Let's just go back to the start, Doug Delony is a digital producer at KHOU.com, and on that day he was jogging like every normal day in Discovery Green Park, Houston, an empty baby carriage caught his attention, and decided to take a quick peek.
Delony then rapidly understood what was really going on and snapped a picture of that scene. That photo went viral on the internet and you will be shocked to know the reason.
KHOU television station noticed the picture and wanted to dig deep into it. Because everybody wanted to know more about that strange man.
This man is named Troy Griffin living in a 10th-floor apartment across from the park, has the most sincere and beautiful intentions.
Doug Delony said: "Most afternoons I take a run through Discovery Green, and most afternoons I see this guy with a stroller but no baby. He brings this beautiful… what appears to be… disabled pup to the park. He lets it sit in the grass and take in the smell and the sound. Here he is giving it water out of a small cup he brings with him. An adorable dog and a nice guy – God bless them."
A lot of dog owners bring their dogs to this park but unfortunately in the case of Troy's dog due to arthritis he can't walk. However Troy is doing his best to let Max enjoy the fun and the smells of being outside the house. The dog comes alive when he goes to the park.
Edie, Griffin's wife, claims that Max is 16 years old and he is part of the family. From when he was a little puppy they took good care of him. This amazing dog even alerted them of a coming tornado at their previous house, he was a true hero.
He told KHOU: "He's part of our family. He's my best friend. He's taught me life lessons that I will never forget." Unfortunately, Max is blind in one eye, he is the equivalent of 112-years-old in human years, so you can understand that he got many medical problems. Max is living in an apartment and has a big corner for himself packed with many toys.
Edie told KHOU: "But I don't think you should just turn your back on someone just because they're elderly. I think they deserve our love and our care and our attention. And there is so much we can learn from them even as they get older."